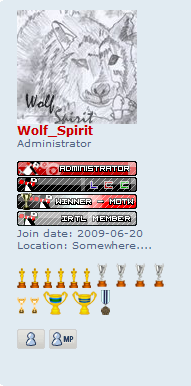 Anybody besides me notice something wrong?
Member








Nope, everything looks fine to me
_________________
"Genius is eternal patience." - Michelangelo
Line Rider Legend






yeah, I took it out and think he added it back. lolz
admins do what they want cuz pro, I guess. AC used to have two member PIPs
_________________
Support My Art
A playlist of my best tracks
To keep up with what I'm up to in the world of Line Rider, follow me:
My Twitter
|
My Tumblr
|
My Twitch
|
My Facebook Page
|
My Instagram
(You can also follow my patreon and see all public posts completely for free)
Member




I'm the artsy guy round here








_________________

Steve Lives

Member




fuck around and get dunked on




@ACwazHere

wrote:
icwatudidthar
_________________
if I go insane within a year, probably don't be surprised, mmkay?
Member




don't read this




Shotoku wrote:

Anybody besides me notice something wrong?
Yup. He has to user ID bars. One for admin, the other for regular user.
_________________
Visit my dA page!http://zayata.deviantart.com/
Member





Wolf is become super gray, the shatterer of worlds
_________________
̿̿ ̿̿ ̿̿ ̿̿ ̿'̿'̵͇̿̿з=( ͡° ͜ʖ ͡°)=ε/̵͇̿̿/'̿'̿ ̿ ̿̿ ̿̿ ̿̿  right back up in ya ̿̿ ̿̿ ̿̿ ̿̿ ̿'̿'̵͇̿̿з=( ͡° ͜ʖ ͡°)=ε/̵͇̿̿/'̿'̿ ̿ ̿̿ ̿̿ ̿̿

ヽ༼ຈل͜ຈ༽ノSLAM YOUR JAMヽ༼ຈل͜ຈ༽ノ
MY NIGGA RYU ALWAYS OUT HERE. THAT NIGGA COLD ASF I FUCKS WIT RYU CUS THAT NIGGA RYU SLICK
Member




Dreadnips are amazing goddamn





---
Permissions in this forum:
You
cannot
reply to topics in this forum